Metal Building Financing
The booming popularity of metal buildings has led to a significant increase in demand. As the number of first-time and return buyers expand, the need for clear information about flexible financing options grows. As the top metal building dealer in America, Premier Metal Structures has the best, most straight-forward financing programs in the industry.
Request A Quote
Partnership with PowerPay
Premier Metal Structures has partnered with Allegro to offer flexible financing options that aren't just easy to understand, but also simple and direct—making it easier to buy the metal building of your dreams outright!
Criteria for the customer:
Up to $10,000: If your credit score is 680 or better, you may be able to borrow up to $10,000
No Collateral: No collateral required and less paperwork to wade through – get to your funds faster
Competitive Rate: Enjoy a fixed 9.85% APR for the entire life of your loan, so you can budget long-term
Express Application: Get approval within minutes (during business hours) through our online application process
Smarter Terms: Longer than average repayment terms, so your loan will fit your monthly budget
No Questions: We respect the confidentiality of your goals and won't intrude on your privacy
To bring you the best metal building financing possible, Premier Metal Structures has partnered with RTO National. This partnership is key to providing you with flexible financing options and ensuring you are able to buy your perfect metal building.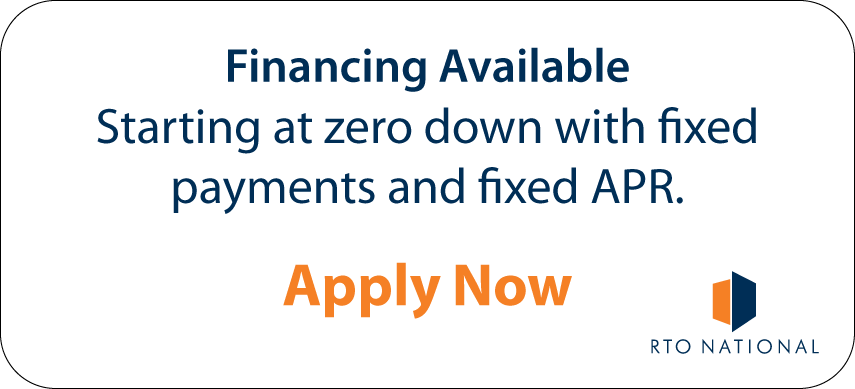 Get Started On Financing Your Dream Building!
Benefits of Financing Program by Premier Metal Structures
Quick
When you have a steel building selected and your customizations ready to implement, waiting through seemingly endless days, weeks, or longer is simply unacceptable. After all, you need to put your building to use to truly reap the benefits it has to offer. With steel building financing from Premier Metal Structures, you can complete the process very quickly, allowing you to get to the fun part of metal building ownership—actually using it!
Easy
When making an investment in something as significant as a building, figuring out financing should not create additional stress or overcomplicate the process. Premier Metal Structures firmly believes that a commitment to every customer's comfort and confidence is key to a successful transaction and long-lasting relationship. That's why its team of customer service experts is the best in the industry, and its online tools are so intuitive—to make the entire process easier for you!
Transparent
Openness and honesty are vital to healthy, trustworthy relationships. That's why Premier Metal Structures emphasizes transparency in every step of the financing process. You shouldn't have to guess about the requirements or worry about the fine print. With Premier Metal Structures, you can be confident that you're being treated the right way.
Financing with Premier Metal Structures
You know financing with Premier Metal Structures is quick, easy, and transparent. Now, learn about how it works!
1
Application
Once you've pinpointed the perfect metal building for your purposes, you will need to apply for steel building financing. To do so, simply fill out the necessary forms for PowerPay financing. The entire process is extremely streamlined!
2
Approval
Your time is valuable, so Premier Metal Structures won't keep you waiting. Approval generally takes only a few minutes! Once you're approved, you're pretty much ready to receive your new metal building.
3
Installation
After receiving your metal building financing approval, the next big step is the installation of your building. Whether you choose to take advantage of installation services or do it yourself, installing your building is one of the most exciting steps of the entire process.
4
Payments
Now, all you have to do is enjoy your new building and make your monthly payments in a timely manner. Yep, it's that simple!
Get in Touch
For quick metal building needs, contact a friendly metal building expert from Premier Metal Structures today!
The Best Buildings and Financing in the Industry
With a reputation as the best dealer of steel structures in the United States, there's no question that Premier Metal Structures is the go-to dealer in the metal building industry. This reputation has been earned and retained through hard work and by offering superior products and services throughout the years. No matter what metal building you need or want, Premier Metal Structures will provide it. Perhaps even more importantly, Premier Metal Structures offer the best customer service you can find. Thanks to its dedicated team of metal building experts, Premier Metal Structures gives you the royal treatment every step of the way, from preliminary research to installation.